Stoney Croft Farm is the new home for the Dorking Desk Shop's larger furniture. Situated just outside the historic market town of Dorking at the foot of Box Hill, this conversion of Victorian brick and flint buildings, including a barn and dairy, has won a local conservation award.
Here there is room to display large library bookcases, refectory and extending dining tables and sets of chairs, wardrobes, cabinets and linen presses. Other pieces include reading stands and writing tables, storage drawers, plan chests as well as some early walnut furniture.
We also have a selection of the more unusual shaped and decorative desks and writing furniture.
Examples of oak and country furniture in the oak barn currently include dressers, coffers and mule chests, benches, settles and country chairs, cots, cradles and four poster beds as well as a selection of Arts & Crafts and Aesthetic furniture.
All pieces are restored to showroom condition and are ready to grace and enhance your home for many years to come.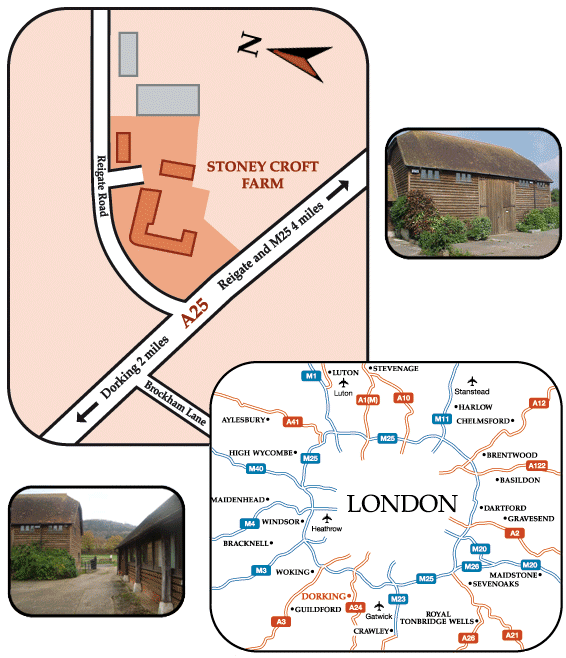 STONEY CROFT FARM
Leave Dorking by the A25 going east towards Reigate. You will find Stoney Croft Farm on the left after about 2 miles.
If coming on the A25 from Reigate (which is junction 8 on the M25) you will pass `The Arkle Manor' on the left hand side after about 4 miles and the farm is another 200 yards further on the right.
Please call 01306 883327 or visit 41 West Street to make an appointment.