The tallest single masted yacht in the world, Mirabella V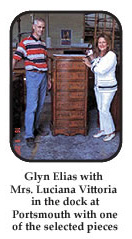 Mirabella V during construction in Southampton.    One of the desks on board
When approved they were restored and their surfaces sealed with a special heat resistant polish. After that I had the interesting task of lining all the cupboards and drawers with fine Italian silk.
The furniture was then secured to the walls and flooring to protect them during rough and turbulent seas.
The result is totally in keeping with Luciana Vittoria's vision for the interior decoration of the Mirabella V.

The Mirabella V
Since the launch, in 2003, I have been to the docks in Southampton and Genoa, Italy to carry out essential maintenance to keep these pieces in the condition their surroundings demand.